bila upload jer gambar kat FB, ramai org tegur, dah kurus, then diorang tanya mcm mana....mmg laaa i will give the same answer...PREMIUM BEAUTIFUL!!
seriously, it works!! bukan sbb nak promote sbb jual jer...but memang berkesan...now I can wear my size 28 jeans yg beli masa before kahwin!!!! N semalam try baju tunang...MUAT!!!!! nnti amek gambar n post k...terkejut badak tau muat..hubby pun ragu2...but when die tolong zipkan..mmg ngam pakai mcm dulu... :) FYI, baju tu after kahwin 2 bulan jer dah takleh sarung langsung, sbb pinggang kecik giler before kahwin...and now....BOLEH....*kagum dengan PB jap*
korang nak percaya ker tak, it all depends..takde paksa suruh percaya, but I really do believe in the product that I am selling, so pada yg mmg nak shapekan balik badan and lose a few kilos...silaa laa call saya kat 019-2710102 untuk book set anda!!!! :)
Anyways, ade jugak yg masih tanya, PB tu ape? hmm....meh nak cerita, PB tu a 3 piece corset....ade 3 bahagian, and each piece ade fungsinya tersendiri....
Bahagian I - Bengkung.
Fungsinya:
1) Tujuh batang keluli memori dapat menyokong pinggang dan menegakkan tulang vertebra, turut berupaya memperbaiki postur berdiri dan duduk.
2) Rekaan unik berdasarkan potongan rangka badan manusia, memperkuat pengagihan lemak pada bahagian pinggang ke bahagian dada dan punggung secara serata, turut mencapai kesan pembentukan badan yang seimbang.
3) Tali kenyal yang diimport dari Jepun, membantu menyelaraskan kontur pinggang.
4) Rekaan secara fleksibel, menghasilkan kesan pembentukan berdasarkan kesesuaian badan individu.
5) Rekaan 3 pasang cangkuk membolehkan anda membuat penyelarasan yang sesuai.
6) Perhiasan berlian berbentuk rama ¨C rama menonjolkan keunggulan produk.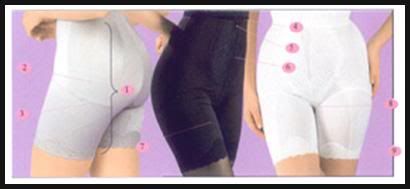 Bahagian II - Long Girdle.
Fungsinya:
1) 32 kepingan jahitan stereoskopik, berdasarkan teori mampatan berserpihan, mengagihkan lebihan lemak ke arah bahagian badan yang bersesuaian.
2) Rekaan dan jahitan unggul cawan pinggul dapat membetulkan pinggul yang lentur, membentuk kontur pinggul yang mempesona dan meninggikan pinggul.
3) Mengasingkan kontur peha dan pinggul, mengagihkan lebihan lemak pada peha ke dalam cawan pinggul dan membentuk kontur pinggul yang sempurna.
4) Dilengkapi dengan kain jenis kapas yang selesa pada bahagian dalam pinggang seluar dapat memperbaiki dan membentuk kontur pinggang yang mempesona.
5) Perhiasan berlian berbentuk rama ¨C rama menonjolkan keunggulan produk.
6) Mampatan yang tetap ke atas abdomen dapat mengurangkan lebihan lemak lalu memperbaiki masalah perut yang buncit.
7) Rekaan mampatan 2 lapisan berfungsi menyelaraskan lemak pada sekitar peha, membentuk kontur peha yang menarik.
8) Penggunaan 2 lapisan kain kapas berlubang kecil berfungsi untuk memberi keselesaan.
9) Penggunaan renda yang fleksible, mengelakkan perasaan tidak menyenangkan akibat pergeseran dengan benang seluar.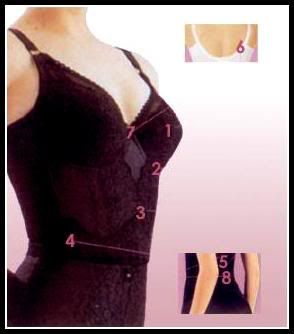 Bahagian III - Long Bra.
Fungsinya:
1) Cawan coli dengan 3 keping jahitan stereoskopik dapat menolak atas, menyokong dan menetapkan kedudukan buah dada.
2) Rawan keluli memori berfungsi untuk menetap dan menyokong buah dada.
3) Rekaan kuasa tekanan dan regangan berganda pada bahagian depan coil dapat menyelaras perut yang buncit lalu meninggikan kedudukan kontur buah dada.
4) 2 batang keluli berupaya untuk menyelaras dan membentuk kontur badan.
5) Rekaan kuasa tekanan dan regangan berganda pada bahagian belakang coli dapat menutupi bahagian belakang badan, dapat menyelaraskan lebihan lemak pada bahagian belakang , turut mengatasi masalah berbadan besar.
6) Rekaan bentuk ' U ' pada bahagian belakang coli bukan sahaja dapat menguruskan badan, malahan menambah kontur bahagian belakang.
7) Perhiasan berlian berbentuk rama - rama menonjolkan keunggulan produk.
8) Rekaan 3 pasang cangkuk membolehkan anda membuat penyelarasan yang sesuai.
yada yada yada....
kesimpulan, klu pki min 8 hours a day... EVERYDAY (or you can cheat every once in awhile)

MEMANG BOLEH SHAPEKAN body...
I have tried it..and mmg sangat berkesan....why not give it the benefit of the doubt and get one for yourself???? once dah pki...i promise you..mmg jatuh cinta tergolek2...
one of my business partner punya customer dah lose 2kg in 2 weeks....!!!!!!! die punya excited...next month nak kahwin....tegar pakai everyday...mcm tu laa bagus.. ;)
JANGAN TUNGGU LAGI....COMPLAIN DIRI DAH BERISI TAPI TAK AMBIL APE2 TINDAKAN PUN TAK GUNA....PAKAI PB, MINUM LACTOLITE....IN ONE MONTH JER MMG DAH BOLEH NAMPAK DIFFERENCE!!!!
JOM CEPAT...BOOK YOUR PB SET NOW!!!!!!!! SEMENTARA HARGA MASIH PROMO NI....SAMPAI 25 MARCH JER TAU...AFTER THAT NORMAL PRICE....BE SMART....
CALL/TEXT ME FOR FURTHER INFO OR TO BOOK YOUR APPOINTMENT FOR FREE CONSULTATION!!
AISYAH 0192710102
escallonia08@yahoo.com
**************************************
Cara Pemakaian Long Girdle

:
1. Lipatkan bahagian pinggang dan dan kaki seluar dalam.
2. Sarungkan seperti memakai seluar dalam biasa.
3. Masukkan tangan di bahagian punggung dan tarik lebihan lemak ke atas.
4. Perbetulkan kedudukannya agar selesa.
Cara Pemakaian Long Bra:
1. Sarungkan bra ke badan dan letakkan payu dara ke dalam cawan bra.
2. Lekatkan cangkuk di bahagian belakang.
3. Tarik semua lebihan lemak yang ada di bahagian belakang dan bawa ke hadapan (masukkan ke dalam cawan bra).
4. Laraskan tali bra supaya dapat kedudukan yang selesa.
5. Betulkan kedudukan bra.
Cara Pemakaian Waist Nipper
:
1. Lekatkan kesemua cangkuk.
2. Betulkan kedudukannya.
3. Tarik tali pelaras.
4. Tahan nafas dan cangkukkan.
5. Pastikan ianya selesa.
Panduan Memilih Pencuci / Losyen
:
1. Gunakan syampu atau losyen yang disyorkan sahaja.
2. Gunakan losyen yang beralkali lemah atau neutral.
3. Jangan menggunakan pemutih klorin.
4. Meletakkan pakaian dalam ke dalam air setelah syampu atau losyen melarut dengan sepenuhnya.
5. Rendam dan cuci secara berasingan dengan pakaian lain terutamanya pakaian yang berwarna.
Penduan Mencuci:
1. Dilarang menggunakan mesin basuh, pakaian akan rosak dan menjejaskan fungsi F.I.R yang terdapat pada produk.
2. Rendam pakaian ke dalam air, setelah syampu atau losyen larut sepenuhnya.
3. Cuci menggunakan tangan pada suhu air yang rendah iaitu sekitar 30 degrees Celcius.
4. Mencuci bahagian kotor atau bahagian berpeluh dengan menggosok atau mengurut perlahan-lahan dengan tangan.
5. Biasanya, bahagian pinggul lebih kotor gosok menggunakan tangan semasa mencuci untuk mengelakkan kerosakan.
Beberapa LARANGAN PENTING!
1. Dilarang menggunakan syampu atau losyen beralkali tinggi.
2. Dilarang menjemur pakaian di bawah sinaran cahaya matahari.
3. Dilarang menggunakan seterika.
4. Dilarang mencuci dengan menggunakan mesin basuh.
5. Dilarang memerah pakaian untuk tujuan mengeringkan air.
Panduan Menjemur:
1. Penjemuran dilakukan dengan menterbalikkan bahagian dalam ke luar dan betulkan bentuk serta ratakan kedutan-kedutan yang wujud.
2. Jemur sebaik sahaja selesai membasuh untuk mengelakkan kedutan.
3. Jemur di tempat udara mengalir.
4. Jangan jemur di bawah sinaran matahari atau udara panas (ini akan menjejas kualiti kain dan menyebabkan warna menjadi pudar).
So, hopefully entry dapat dijadikan panduan buat semua wanita yang memakai Premium Beautiful...:)
xoxo