I was searching for a bag organizer since dumping everything in my new bag didnt seem too appealing to me...sayanggg.. teeehheeee...
but most of the organizers had compartment at the outer side of the bag, which I find not so practical..and the the tangkai seems a bit menyemak - it might be ok for some people - but I am fussy like that! I wanted the compartment to be at the inside part of the bag and no tangkai and the size MUST fit my bag PERFECTLY... taknak terkecik..taknak terbesar...and I want it to be pretty too..not the boring black or brown color...
huh..bnyk tak kerenahnya..anyways, yg kat malaysia, mostly yg I jumpa yg ready stock is like below...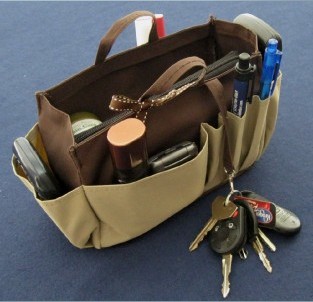 there are the onces i found yg OK but our of stock..of course the good ones always are!! hmmm...
so what best to meet all my criteria if not making it myself?? so for a few days my mind been busy thinking about the design and how to make it happen...jahit macam ni ke..boleh ke klu potong camni,,or cantum kat ctu..things like that..even sebelum tido pun boleh pk... but of course dengan keadaan skrg ni dok pk2 jer laa.. mmg takde energy nak menjahit...so the ideas i had just dok ding dong in my head jer ...
until yesterday morning, woke up at 5am pastu tak bleh tido dah... dok laa depan pc..bukak fb cam buhsan jer semua pun tdo..nak tulis blog but 5 am? i would be rambling like a mad woman..so better not kan... maka google laa pattern untuk purse organizer and I found
this
Almost like what I wanted!!! pastu tgk price...USD12!! convert dalam rm40..just for a pattern?? hadoi... hmm..actually ok jer klu nak beli...tapi punya laa excited nak buat...cam malas nak tunggu for them to reply..then nak kene print out laa hape..malas malas....
so amek pen and kertas, ukur the inside of my bag...and drafted this...
agak2 jer..masuk my store room and geledah almari kain yg dah 3 bulan tak sentuh - habuk giler ok!! dapat kain yg nak...terus start ukur and potong and jahit and cantum... (mesin jahit pun dah 3 bulan tak sentuh k! berhabuk giler)
maka terhasillah ini....
fabric both from IKEA beli 2 tahun lepas kot.. :)
compartments inside : handphone, specs, wallet, keys, diapers, small notebook, pens, camera, small mirror, measuring tape, make up, pins and papers..and some extra space just incase.. ;)
and it fits perfectly in my new bag :) daradadadada..im loving it :)
* post kat FB ramai tanya can amek order ker tak.... sorry girls, nak cakap awal2..my mesin not for hardcore sewing..ni pun ade part my mesin taknak gerak coz kain tebal sgt...the material I used heavy cotton so cam tebal and berlapis kan...mau jahanam mesin buat bendalah ni bebanyak.. i will try to make a tutorial if ur interested.. but itupun taktau laa bilanyer nak siapp... ;p so jgn laa mengharap sgt k.. :)
Love,
Aisyah Samsudin