ok. maybe ade yang income rm3k, but yg atas ni blom tambah astro, handphone, Unifi, Insurance ..bla bla bla... and ini if anak sorang... so obviously, expenses are more than RM1950 kan.. :)
and ini bila anak kecik lagi ..
bila dah start sekolah...we can expect this pulak..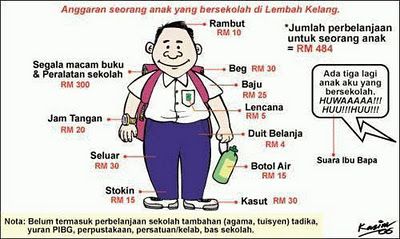 begs, baju, jam tangan, socks, kasut maybe one-off punya expenses, or maybe per term (kids nowdays ganas please! )
but what about tuisyen, duit belanja, sekolah agama, duit bas sekolah semua kan...
itu atleast dah extra rm200 every month per kid..
and things are not getting cheaper ~ kita dulu bolehlaa duit belanja rm1, lepas makan nasi lemak and air and keropok lekor
sekarang rm1 lepas beli air jer..
sekarang ni yelaaa buat savings,
but selama mana savings kita boleh bertahan .. confirm cukup sampai anak masuk uni?
SO..
better berjimat and saving sekarang ke
OR
better berjimat AND buat extra duit dari sekarang ???
bukan susah nak buat duit lebih, but its not easy either...
you want or dont want jer...
the NEED is obviously there...!!
CALL ME TO KNOW HOW TO MAKE EXTRA MONEY NOW :)
Love
Aisyah Samsudin
0192710102
Premium Beautiful Agent